When you're passionate about something, you'll always find a way to make it happen. Until recently, I never thought it would be possible to combine my two biggest passions in life: photography and live music. When a last minute opportunity came up to photograph my first music festival in Montréal, I couldn't pass it up.
Join me as I share with you a weekend in the life of a live music photographer!
Friday, June 29th 2022:
4:05 AM EST: My alarm goes off and I sit up in bed, heart racing. Today's the day! 
11:47 AM EST: I arrived in Montréal after a lovely AirCanada business class flight. The air is crisp and warm, nothing like the stale breeze of Texas I woke up to this morning. 
My heart is pounding in my chest. I cannot believe I'm in Canada for OSHEAGA – a three-day festival of music at the stunningly beautiful Parc Jean-Drapeau.
1:52 PM EST: I took the bus into the city and checked into my hotel. After chugging a quick coffee and two bites of a protein bar, I hastily change into a wrinkled outfit and check my backpack for the 97th time today. Just as I suspected, my batteries are still charged, my life is intact. 
3:19 PM EST: I walked a few blocks to the Metro station and took the yellow line to the island where the festival is being held. The train is overflowing with people of all ages, dressed colorfully and eccentrically. The low murmur of laughter and anticipation silences any anxiety buzzing in my ears.  I check in and meet a few important faces, feeling so proud to tell them I'm representing Voyage Magazine this weekend.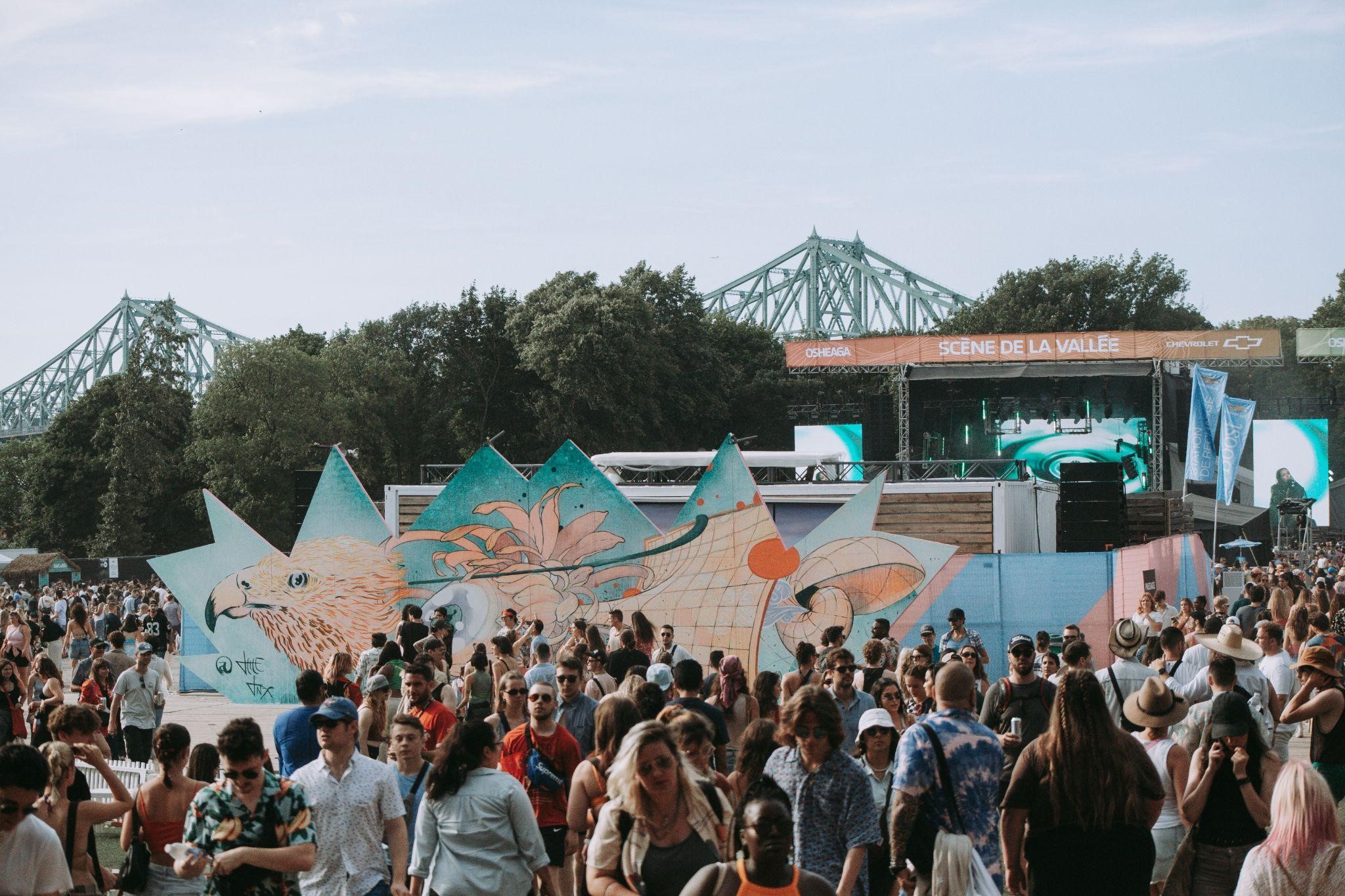 5:01 PM EST: I made it just in time to catch the last few minutes of Ashe's performance, who is an American singer-songwriter, most known for her 2019 indie-folk bop, "Moral of the Story". She danced and laughed with the most contagious energy and my soul felt at ease.
5:46 PM EST: I grab a slice of pizza and a cocktail and make my way over to the Scène De La Montagne stage for my next artist, The Kid LAROI, an internet sensation who grew to TikTok fame. LAROI's stage presence is that of twenty or thirty people, despite the fact that he's only eighteen years old. Festival attendees jumped and moved to the music as the warmth of the evening sun beat down.
7:17 PM EST: I stop by the media tent and find a place with some AC to start writing and uploading photos. I smiled at some other professionals next to me, and can't help but wonder who they work for. I scan my phone to see a few heart-warming texts and Instagram comments from some friends who know how big of a deal this is for me. I've dreamed of photographing a music festival for as long as I can remember. I am a firm believer that live music is good for the soul.
7:55 PM EST: I walk to the Scène Verte to watch 6LACK's set for a brief moment before bouncing over to the Scène De La Vallée to see Big Sean perform. As I was walking over, someone approached me for the first time since I arrived. We chatted about our hope's for Big Sean's performance and both marveled at the energy of The Kid LAROI from earlier. We parted ways and I couldn't help but smile. I feel proud – proud that I took the leap of faith to make this trip and do something that's challenging, especially for an introverted old-soul like myself.
8:45 PM EST: Big Sean takes the stage and despite being stuck behind a crowd of thousands and thousands of people, I captured some iconic moments. I had flashbacks to school dances with Big Sean being played in the highschool cafeteria as I danced on my crush…. But this is a much better memory to replace that with – ha!
9:51 PM EST: My feet ache and my phone is dying so I'm back at the media tent to recharge, both literally and figuratively. My Dropbox works lightning fast to upload today's shots. Did I mention there's bugs EVERYWHERE?! Eeek.
10:43 PM EST: I thought leaving seventeen minutes early was enough to beat the metro rush, but I was wrong. Thousands of people flock to leave as rain begins to downpour. I'm too tired for much more than a shower and ten minutes of TikTok scrolling before I pass out. What a wonderful day one!
Saturday, July 30th, 2022:
12:54 AM EST: I finally crawl into bed, too tired to even dream. I am overwhelmed with gratitude.
9:19 AM EST: I wake up before my alarm, too anxious to sleep any longer. I throw on a hoodie and don't bother brushing my hair before walking a few blocks for a coffee and some Tylenol. My brain feels scattered with anticipation. Today is the biggest day of my photography career thus far… I get to photograph my favorite band in the entire world: LANY, a Los-Angeles based duo of Paul Klein and Jake Goss. They have been with me since high school. I've traveled all over the U.S to see them and this is my seventh show since 2017. This music saved my life and I have been dreaming of photographing them for years. I cannot believe it's finally happening!
11:08 AM EST: I rummage through an overstuffed suitcase and attempt to take deep breaths. A few more sips of coffee and a couple bites of a sandwich is all I can stomach before getting dressed, applying a thick layer of sunscreen and running to catch the metro again.
1:26 PM EST: After checking in at the media tent I make my way to the Scène De La Montagne for LANY's later afternoon arrival. Opening up Saturday's set list at 2 PM sharp is an up-and-coming alt-rock band from Toronto, Monowhales. Lots of head-banging ensued. Lead singer Sally Shaar ran down into the General Admission pit to dance and sing amongst the crowd.
3:07 PM EST: Less than thirteen minutes till LANY takes the stage. My sweaty palms fumble with my camera strap and I feel pins and needles in my legs. This is the moment I have waited for for so long.
3:20 PM EST: I immediately burst into tears with the first three notes on Paul's guitar. Overwhelmed with emotion, my hands shake as I adjust my zoom lens. The shots I captured are probably my favorite photos I have ever taken. Paul recognizes me in the crowd and makes eye contact as I multitask between taking photos and screaming lyrics.
3:33 PM EST: I put my camera away after the first three songs of the setlist and enjoy every second of the show. Every detail was captured in my heart, from the new tour screen graphics to the Harley Davidson hoodie chaotically drawn over Paul's head. In the final chorus of Made in Hollywood, Paul runs down the center staircase and throws his arms around me in a hug. He remembered me! My life was made. Months after my tour stint in Fall 2021 and he still went out of his way to make me feel special, even in an entirely different country.
4:05 PM EST: I breathe a sigh of relief and attempt to not fall over. Did I just do that? All my dreams have come true, it was everything I wanted and more. I hustle through the crowd to the media tent to decompress and collect my thoughts. I wipe the tears from my cheeks and begin to cull through the 357 images on my memory card.
5:02 PM EST: I feel composed enough to re-enter society (ha) so I walk for some pizza with Will, a journalist from Le Presse magazine. After returning to the media tent, I connect with Myles, who hosts a nighttime radio show on iHeartRadio in Canada. We chatted over Aperol Spritzes and laughed about the comparison of Dallas vs. Montréal.
8:35 PM EST: Back in the media tent as I decipher my next move. I decided to venture to the Scène De La Montagne to catch the back half of Burna Boy's set. The pyro-technics and gospel-like choir echoed throughout the island as the Nigerian street music rumbled loud. The crowd moved their hips and waved their hands high.
9:44 PM EST: Future takes the Scène De La Riviere and everyone moshes like it's a club. Popular hits like the 2017 hit "Mask Off" kicks off a dance party with girls on shoulders and drinks raised to the sky.
10:23 PM EST: I call it an early night out of exhaustion and head to the metro, successfully beating the crowd this time. I made a pit stop at the pharmacy for a bag of Smarties candy and scrolled through today's shots on my Canon 5D Mark III in an attempt to relax.
Sunday, July 31st, 2022
2:08 AM EST: Time for some shut-eye. Talk soon!
9:59 AM EST: I throw on my hoodie and go to grab another coffee at the cute little shop down the street. I give my mom a call to tell her verbatim how I have never been happier. The birds chirp and the breeze blows through the tree on my right and I feel the sun on my face.
12:56 PM EST: Back on the metro and energized for the last day here. I grab my Sunday media pass and begin to edit more photos from last night. I watch a couple of artist interviews and try to keep from having the nervous giggles.
3:49 PM EST: Gracie Abrams kicks off my Sunday of photography as she eloquently harmonizes a fun setlist of bedroom pop melodies at the Scène De La Montagne. She was graceful yet powerful, and was absolutely an iconic start to day three.
4:05 PM EST: At the Scène De La Rivière connected to the Montagne, Chelsea Cutler begins her performance and the crowd is immediately encapsulated by her angelic vocals. I love how these photos turned out! Her inspiring closing message held attendees close as they were reminded of how loved and valued they each are.
4:48 PM EST: I rest for a few moments on a patch of artificial grass and wipe the sweat bead that fell from my brow. Next thing I know, I have weaseled my way through the General Admission section to photograph Ashnikko, a badass pop-punk princess with iconic blue hair, who grew to notoriety on TikTok with her 2019 hit, "Stupid".
5:07 PM EST: I sit down on a bench for what feels like my 16th slice of pizza in three days (#pickyeaterproblems) and loosen the laces on my boots. Time to fill up my water and attempt to cool off in these hot Montréal temps.
5:31 PM EST: I ran to the opposite side of the island to the Scène De La Vallée to photograph Tinashe, who I recently saw perform in Seattle in 2021. She never fails to disappoint! Her dancers were on fire and the attitude was definitely present. She opened with her (arguably) two most popular songs from 2014: "2 On" and "All Hands on Deck".
5:54 PM EST: What a day so far! I'm back in the media tent to write and sit down for a moment. I have been running around like crazy, almost seven miles of walking according to my iPhone and it's not even 6 PM!
7:04 PM EST: I catch the final moments of Girl in Red's set as I walk to the opposite end of the island for Glass Animals. Despite some technical difficulties, their performance was electrifying. I wiggled my way to the barricade and captured some PHENOMENAL shots. The energy was insane and everyone bounced and danced without a care in the world. This English-American indie rock band is composed of four childhood friends: Dave Bayley, Joe Seaward, Ed Irwin-Singer and Drew MacFarlane.
8:20 PM EST: I watched Machine Gun Kelly's set from afar so as to not lose my spot on the barricade. His neon pink hair and powerful demeanor move through the crowd as thousands chant and jump.
9:34 PM EST: Dua Lipa closed out the night with a bang and it felt like a Las Vegas spectacular! Lights, dozens of dancers, inflatable lips and heart-shaped disco balls only enhanced her jazzy choreography and energy. I cannot believe how close I was!
Monday, August 1st, 2022:
4:54 AM EST: I decide to call it a night (err… morning) and catch some sleep before my flight back to Dallas. Although my brain and body are exhausted, my heart has never been happier getting to capture the beauty of live music in Montréal.
I can confidently say that this was the most exciting and best weekend of my life thus far. I have never been happier! The people, the connections, the performances and the photos captured… it was beyond iconic and a memory I will hold onto forever. Thanks so much for tuning in, and stay tuned for more live music coverage coming soon!