What started as a back-and-forth bout between the two teams ended in victory for the South Oak Cliff Golden Bears against the Melissa Cardinals in last week's UIL State Quarterfinal game. Once the Golden Bears were able to gain some momentum after a game-changing interception, the reigning champs were ready to bring it on home.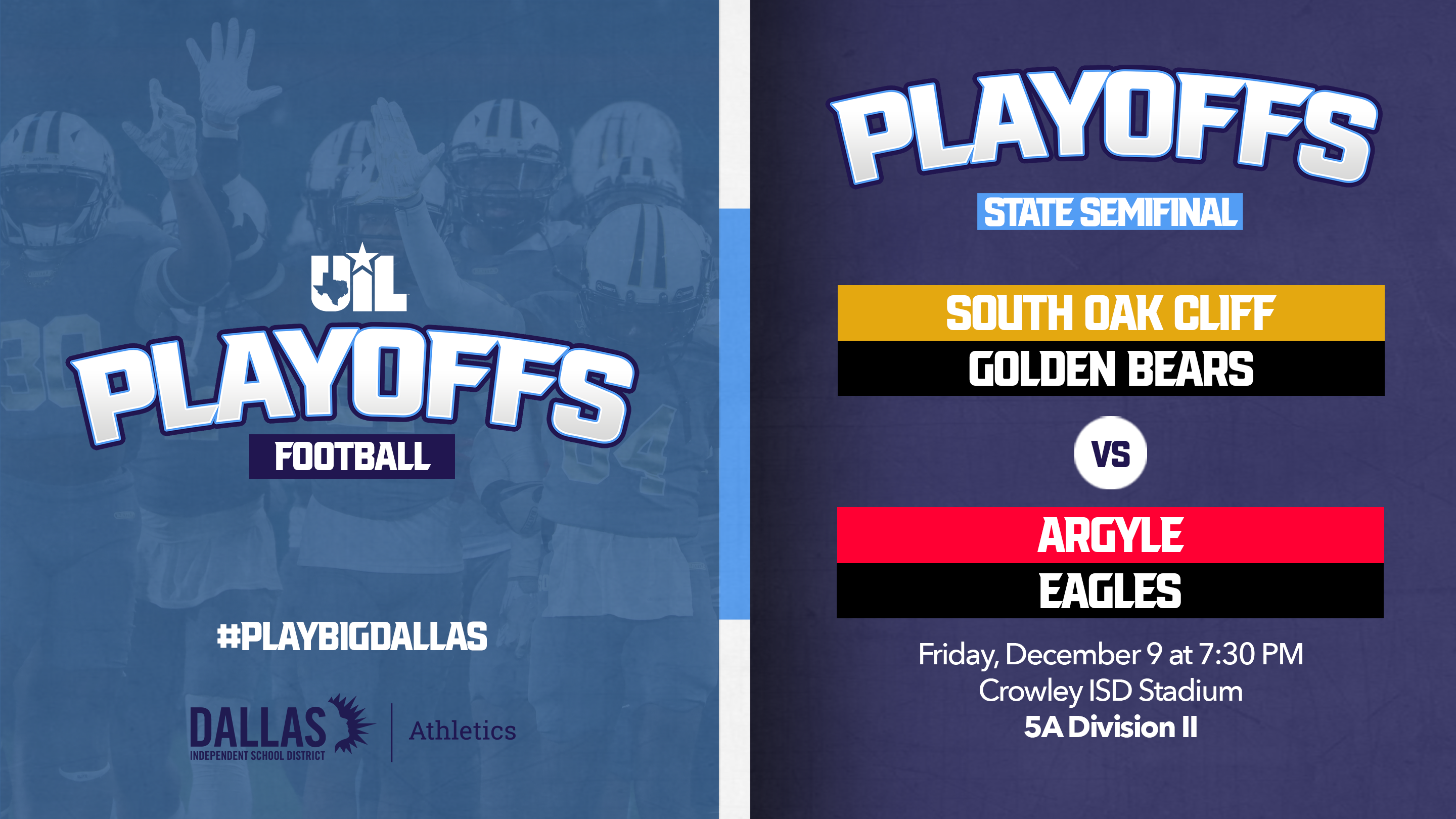 "Anytime you can take the ball away from your opponent, you swing the momentum in your favor. I think it is even more powerful when a kid—like sophomore Jayden Shelton—enters the game to replace an injured player and makes an impact right away. A ton of excitement was generated by that alone. He's a pup that was able to contribute in a major way," said Co-Offensive Coordinator Adrian Madise.
That interception sparked a chain reaction from the offense, and they were able to create a two-touchdown lead, making it hard for Melissa to recover.
The Golden Bears bested the Cardinals with a score of 30-16 and are still in the hunt to become back-to-back state champions.
SOC will take on Argyle at 7:30 p.m. Friday, Dec. 9, at Crowley ISD Multi-Purpose Stadium in hopes of solidifying their 2022 UIL Football State Championship game spot at AT&T Stadium.
"We could not be prouder of the South Oak Cliff Golden Bears for winning the Regional Championship last Friday night. Coach Jason Todd and his amazing coaching staff have their student-athletes locked in and focused. They are just two wins away from repeating as state champions," said Executive Director of Athletics Silvia Salinas.
The Golden Bears have accomplished a huge feat, and we wish them continued success on the journey to make history for Dallas ISD, the City of Dallas, and all urban schools across the nation.
Help us cheer on the Golden Bears in person by purchasing game and parking tickets in advance at crowleyisdtx.org/Page/5675
Advance tickets are $8 for adults and $6 for students. Starting Friday, Dec. 9, tickets jump to $10 for everyone.
Those who are unable to attend in person can watch the game live on Bally Sports Southwest or listen to Millenium Sports's free audio livestream at https://tsrnsports.com/.