Get updates from The Estuary delivered straight to your inbox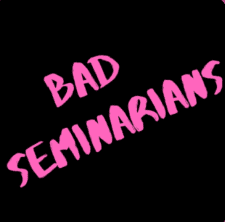 It takes more than a talkative person with opinions to create a podcast worth listening to. Podcast hosts must know their material and their audience, invest in quality equipment, and take time to prepare for interviews. The good ones don't overload listeners with too much information but manage to engage and inform with each episode. The best ones make you laugh, too.
Meet a duo who hit all the right notes in their first season of the Bad Seminarians Podcast. Janay Barksdale and Christian Williams, both graduates of Dallas Seminary, have taken their theological training into the podcasting world, exploring the intersection of being Christian, female, and Black. I asked them to share some background with me as they anticipate season two.
Christian: While I was in seminary I referred to myself as "a bad seminarian" as kind of a joke. Primarily because I felt like I didn't fit in at DTS—and I didn't. Originally we were supposed to do a YouTube channel but I got hired at Christ Community Church in Fayetteville, AR, and had to move.
Janay: "Bad Seminarians" began as Christian's hashtag. We started talking about having a YouTube page about two years ago. Back then we were "2 Black Girls and a Bible." We mapped out an entire season, let it sit for a while, went back to it, realized it didn't work anymore and scrapped the whole thing. We went back to the drawing board and settled on a podcast. I needed something for my upcoming apprenticeship. I used launching the podcast to fulfill my apprenticeship requirements. Two birds, one stone! That's how "Bad Seminarians" came to be.
Christian: Well, our goal is to cultivate dialogue around the intersection of being Christian, female, and black in a gospel-centered narrative. So that's what people should expect—to hear discourse on topics that we care about as black female followers of Jesus. Our audience is black women and other WOC or white women who want to listen and learn.
Janay: Listeners can expect two best friends discussing current events, passion projects, and theology from our unique perspectives as dark-skinned seminary-trained Black Christian women. We hope to reach other Black women, particularly dark-skinned women wrestling and questioning things that Christian and non-Christian culture call "right" but doesn't necessarily apply to unassimilated BIWOC.
Christian: Legit, do not remember when we met. We met at DTS. I started my ThM in Fall 2015 and Janay came in 2017. Do not remember how we were introduced or met or anything.
Janay: Christian is the only significant person in my life that I cannot remember meeting. I can tell you with complete accuracy how I met my childhood best friend but I cannot tell you how I met Christian. We've always just vibed. I don't remember us going through the typical "new friend" stage. It feels like we were always best friends.
She's pretty passionate about the things she cares about, incredibly driven.
I have no issues admitting that Christian is the feeler of the relationship. I'm a textbook 3w2/ENTJ. I feel a kinship with Miranda Priestly and Olivia Pope. Christian makes me sit in my feelings and consider other possibilities. She brings out the softer side that I'm uncomfortable showing. I think it definitely comes out as co-hosts. I say something that exposes how strong-willed I am and Christian pushes back with compassion. [Note: I am privileged to have recorded a season-two episode with Janay and Christian in which I witnessed this dynamic at work. #fact!]
Christian: My favorite episode is probably "The Do's and Don's of White Allyship." Here's the Spotify link: https://open.spotify.com/episode/0f8EZCy0kr2x6khlx9G4y2?si=-ys2RQjdQ2WOx0jLHQuixQ
Janay: Pretty much every episode is my favorite, but our "Femininity" episode sticks out for multiple reasons. First, Christian can barely pronounce it (she's gonna kill me for that one), it's something that I think every woman has been negatively impacted by, and women both in Christian and non-Christian culture are hitting back at negative views and pressures of manufactured unhealthy femininity in empowering ways. For example, Rihanna almost singlehandedly brought down Victoria's Secret and forced this brand to evolve with the times. https://www.spreaker.com/episode/42629582
Christian: A LOT of good stuff!
Janay: Since my bestie is beginning her doctoral work, I'm taking the helm. Christian is still my co-host but on fewer episodes. Although she's not with me, Christian's fingerprints are all over the podcast. The content is the same but with different perspectives including a few male perspectives.
Speaking of Season 2, don't miss their first episode dropping this week—November 17. Find Bad Seminarians on Spotify, Apple, Google, and Stitcher.